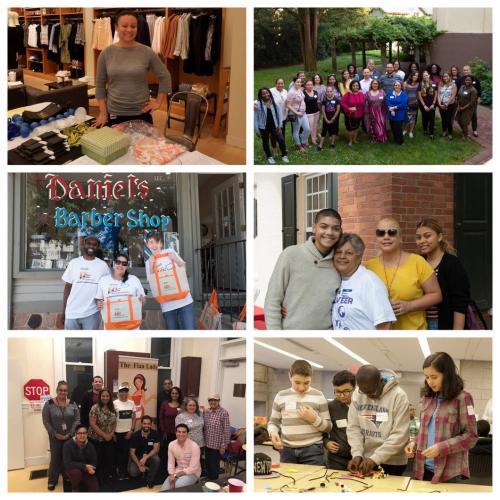 WOW! What an exciting 2018! Here is a look back at YLNG's accomplishments for 2018.
Lectures
We started off 2018 with a Health & Wellness lunch and learn with Registered Dietitian Nutritionist and Certified Nutritionist, Rebecca Purcell. We all left with a new outlook on healthy and mindful eating.
In March, we partnered with WWN to host Hannah Valantine, the first Chief Officer for Scientific Workforce Diversity at the National Institutes of Health. She spoke on "Eliminating the Gender Leadership Gap in Academic Medicine". It was a very inspiring lecture followed by a wonderful reception.
Mid-year, Albert Sergio Laguna, author of Diversión: Play and Popular Culture in Cuban-America, led a candid discussion on how the examination of popular culture asks us to look beyond the pain and to understand the emotional, cultural, and political complexity of Cuban America. The discussion was followed by a great question and answer session. Attendees were given the chance to ask many interesting questions.
Annual Events
Happy Birthday Dr. Seuss! Once again we joined the Yale African American Affinity Group (YAAA), Working Women's Network (WWN), and the Asian Network at Yale (ANY) and sponsored Read Aloud events in honor of National Education Association's Read Across America Day.
YLNG partnered with WWN, YAAA and Women in Technology to celebrate International Women's Day in various locations across campus to encourage people to think about how to create a more gender inclusive world.
2018's Multicultural Block Party took place in September and it was a beautiful event! The event drew in hundreds of attendees and allowed for Yale's employees, students, and scholars to connect with each other and local businesses in New Haven. We had face painting, delicious foods from various New Haven vendors, and performances from dancers, drummers and karate students, along with a sign language demonstration.
Annually, the university's eight affinity groups come together to host an event labeled Breaking Bread. Hundreds of employees came together to enjoy each other's company and sample delicious ethnic food. YLNG provided some tasty Latin pastries.
Community
YLNG participated in the celebration of Lunarfest 2018. The theme of the festival was "People-to-People." People of all cultures came together to celebrate humor, food, art, music, literature and more.
Our members also volunteered at YAAA's 10th Annual Men's Health Day Event! Free blood pressure screenings were provided at numerous barber shops throughout New Haven.
In collaboration with Design for America, we invited New Haven 7th and 8th graders to the 2018 Young Minds' Design Thinking Workshop. The students created innovative solutions and prototypes of a community problem or challenge using a multidisciplinary design process taught by the Yale Center for Engineering Innovation and Design's Designer-Engineers. It was a perfect opportunity for YLNG members to learn, support, inspire, and work alongside the youth of New Haven.
Competitions
Who doesn't enjoy some friendly competition! Co-chairs Dismayra and Tanya faced off at the Being Well at Yale: Keep America Active Challenge. Each co-chair had a team of YLNG members. Everyone did a great job at being active but Tanya's "Team Colón" triumphed over "Team Wepa". Will there be another challenge this year? Stay tuned!
Fundraisers/Drives & Donations
YLNG Member, Sandi Vázquez, led an amazing and successful clothing drive at Yale Environmental Health & Safety department. The items collected were donated to Junta for Progressive Action and was quickly distributed to families in need.
Baby Shower! Together with WWN, we hosted a socks and onesies baby shower. Participants played fun baby shower games and enjoyed some great snacks. Items collected were donated to The Newborns in Need Drive that was held for Yale New Haven Hospital, Saint Raphael Campus.
YLNG participated in the Greater New Haven Heart Walk and raised $180! It was a beautiful 3 mile walk on Savin Rock Beach. Kudos to our very own Marinda Monfilston for completing the walk while 6 months pregnant! (She was also a member of Team Colon in the Being Well at Yale: Keep America Active Challenge.) Way to go!
Together with Yale Veteran's Network (YVN), YLNG partnered with the New Haven Fire Department to collect items for the Mother's Day Outreach Drive. Toiletry items and new toys for mothers and children were collected and donated to New Reach.
August was the affinity groups' Annual Back to School Drive. YLNG members hosted boxes throughout campus. We filled over 250 backpacks donated by the New Haven Fire Department with school supplies. The full bags were handed out to families at the 3rd Annual Packs for Pals event at Edgewood Park in New Haven. We were also able to donate 50 backpacks directly to Columbus Academy, 30 to Junta for Progressive Action and 30 to Edge of the Woods Friends of Haiti program.
For Thanksgiving, YLNG graciously donated Thanksgiving meals for families in need. We partnered with Nehemiah's Day Outreach Ministries of New Haven and were able to identify 6 families from the New Haven community. Thank you to Pastor Pearlene Ford, Nehemiah members, and Yale employees: Ramona Moore (Yale Transportation, Receiving & Storage) and Stephanie Glover (Yale College – Office of Career Strategy), for helping us make that connection!
In December, YLNG partnered with Couch Talk Gamers, New Haven Fire Department and New Haven Police Department to host a Gaming Tournament and Toy Drive. Toys collected were donated to children in local shelters.
2018 Yale Day of Service
YLNG joined Yale Child Study Center, Yale Pediatrics, WWN, Alumni, Faculty and Friends at Yale School of Nursing's Newborns in Need service project. Together we filled 350 take-home bags for the new mothers at Yale New Haven Hospital, Saint Raphael Campus.
YLNG members also volunteered for Yale Day of Service New Haven Health Fair - Party with a Purpose where we provided minority residents of New Haven with health education and services that will benefit their future health and the health of their friends and family members.
Hispanic Heritage Month
YLNG celebrated the Hispanic culture by hosting two cooking demonstrations. The first was with The Flan Lady, Johanna Torres, who taught us how to make a very delicious flan dessert. Members got a chance to sample the flan and take home their very own personal flan. Next up was PAELLA with Chef Efraín from Tata's Restaurant, who cooked up some delicious paella, which included rice and assorted seafood. All 20+ participants had a second helping and went home with extra! Yummy!
Hispanic Heritage Month would not be complete without the annual Fiesta Latina at the Peabody Museum. Hundreds came out for the event to enjoy performances of traditional and contemporary Latin American music and dance along with games, live animals, crafts, and other activities.
Social Events
YLNG partnered with YAAA to host a Shop, Sip, Eat and Mingle event throughout the Shops at Yale. Participants were able to enjoy snacks and beverages while taking advantage of some great shopping discounts.
Picture this… you walk in to the Provost's House and smell some good old Latino home cooking with some salsa playing in the background. Not a dream my friends! The YLNG Spring Social was, as always, a big success! New and old friends enjoyed a beautiful setting, delicious food, and great music as we thanked Tanya Colón for her 2 years of service as co-chair of YLNG and welcomed Diane Chandler as the incoming co-chair.
Everyone enjoys a good Café Con Leche. Especially if you were fortunate enough to attend July's Café Con Leche. Shylo Gonzales knocked it out of the ballpark with a Café Con Leche with a true Latin flare complete with music, limbe and beautiful warm sunshine. October's Café con Leche introduced us to some new friends. YLNG welcomed Officers Martha Cedeño-Ross and Martin Parker, Yale Police Department (YPD) Community Engagement Officers. We learned more about their role within YPD and the New Haven community.
2018 concluded for YLNG with our Annual Winter Social. We celebrated the Holiday Season with Latin inspired food, drinks, and entertainment from The Esperanto Trío. The night ended with a beautiful duet from our very own José DeJesus and his lovely wife Priscilla Montalvo. The toys collected from our generous members were donated to the New Haven Fire Department for distribution among the New Haven community.
To all of the members of the Yale Latino Networking Group, thank you for a productive 2018. May 2019 be filled with good health, love, prosperity, and lots of great events and programs. We hope to see you very soon at an upcoming event.
¡Felicidades!
Dismayra Martínez & Diane Chandler