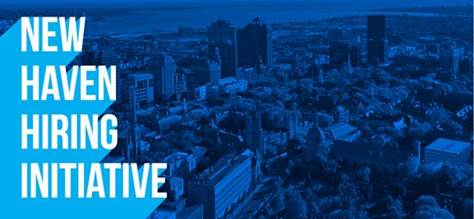 For both Yale University and the city of New Haven, future growth and economic development are fundamentally tied together. Building a solid well-trained workforce contributes to a more stable local economy—revitalizing neighborhoods, attracting economic investments and improving the quality of life in New Haven.
Created in 2013, Yale's New Haven Hiring Initiative (NHHI) supports New Haven's economic growth by connecting qualified, pre-screened New Haven participants to open positions at the University. NHHI works directly with Human Resources and hiring managers to assess candidates. In addition, the program provides a range of training and skill enhancement opportunities for participants and local youth—whether or not a job opening is immediately available.
In partnership with Yale's Human Resources department, hiring managers and other community agencies like New Haven Works, Yale's New Haven Hiring Initiative:
Matches pre-screened, qualified New Haven Works participants with open Yale positions.
Facilitates connections to temporary assignments at Yale.
Develops internships, job shadowing, mentoring, and job-training experiences with specific university departments.
Provides valuable on-the-job experience for New Haven Promise Scholars, another job candidate pipeline.
Works with colleges and local area high schools through job fairs, career days, and internships to present career opportunities.
Collaborates with a network of community agencies and companies to receive and refer qualified job candidates.
For more information on the Initiative, go to: https://your.yale.edu/work-yale/careers/new-haven-community-hiring-initiative.