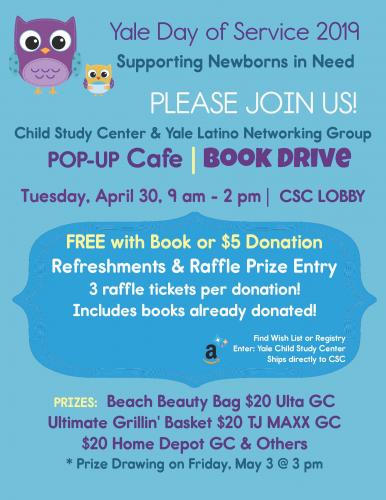 Tuesday, April 30 | 9 AM - 2 PM | Child Study Center, 230 S. Frontage Road, 1st Floor Lobby
Join the Yale Child Study Center and Yale Latino Networking Group for a Pop Up Cafe and Book Drive that will benefit the 2019 Yale Day of Service Newborns in Need volunteer site.
Here are ways you can help:
Bring an English or Spanish newborn book to the event, or donate $5.
Purchase coffee and refreshments at the event.
If you have already made a donation to the Yale Child Center Amazon wish list or registry, stop by this event to claim your raffle entries.
Each person who donates a book or makes a monetary donation will receive free coffee, baked goods, and three raffle prize entries for the following prizes: Beach Beauty Bag, $20 Ulta Gift Card, Ultimate Grilling Basket, $20 TJ Maxx Gift Card, $20 Home Depot Gift Card, and more! For more raffle entries, bring additional books or monetary donations.
If you have any questions about this event, please contact Cheryl Criscuolo.