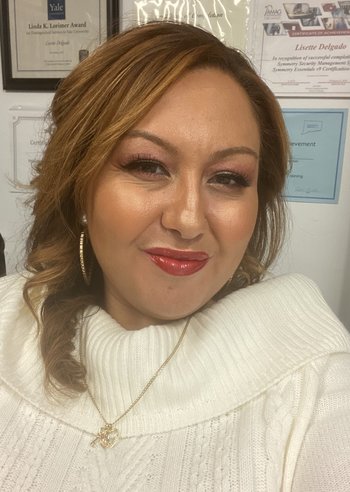 Tell me about your current role at Yale University.
I have been a security manager in the Public Safety Department for almost 4 years. I manage the central alarm station and I am a liaison with the systems department. 
What are your main responsibilities?
I manage and lead a unionized staff of communication dispatchers. I am responsible for selecting, supervising, coaching, and developing my team to ensure consistent, high-quality service. In my role, I am expected to maintain a safe and secure environment for the Yale community by establishing security practices, and following policies and procedures in place. 
What do you like most about your work?
I enjoy working with people, and working as a team to help others. Being in Public Safety, we not only have the ability to help the Yale community, but because we are located within the inner city of New Haven, we are also able to assist the people within the footprint of that community. The best feeling after a long day is to look back and reflect on how many people's lives you impacted during the day. It can be as small as greeting or smiling or as big a helping someone who really needed it. 
How does your job affect your general lifestyle?
It makes me want to be a better mother, sister, aunt, friend, and overall, just a better person. It's helped me to see things differently and realize how blessed I am. Sometimes it means longer days and nights, but it's worth it!
How did you begin your career?
I kind of fell into security. I was in between jobs and received a call to temp for ADT home security as an installation coordinator for the Commercial Department. After a week, the Installation Manager William Goldbach wanted to hire me full time. Eventually, ADT split its residential and commercial departments, and I fell under Tyco Integrated Security. I learned the ins and outs of the job and eventually worked my way up to matrix manager, which was a combination of both a service and installation manager. The position required for me to travel between the Elmsford, NY and the Wallingford, CT office. I was the first Hispanic woman chosen to represent Tyco North East as a member of the Women's Growth Network and Make the Moment council. In 2015, the opportunity to work for Yale as a security manager presented itself, and I officially started in 2016. Now, I aspire to progress within Yale for further advancement.  
What steps would you recommend that someone take to prepare to enter this field?
I am a strong believer that knowledge is power. Obtain as many certifications that pertain to this field. This will set you apart from your colleagues and other practitioners. It will also provide you with more opportunities and a greater chance for professional advancement. Don't be afraid to be unique and just be yourself. Because this is a predominately male industry, there are not many women leaders in this field, especially Hispanic women. 
What skills, abilities, and personal attributes are essential to success in your job?
The relationships you build are very important and they make the difference between success and failure. You should be street smart, loyal, honest, trustworthy, ethical, emphathetic, sympathetic, dedicated, and a hard worker, among other traits. These personal traits will be instrumental in your success. One of the most important abilities you can have is to be able to build trust within your team, as well as consistency, which will open the lines of communication for changes and development.  
If you could do it all over again, would you choose the same path for yourself? If not, what would you change?
My choices, my regrets, all that I have been through in life has led me to where I am and if I had done one thing differently I might not be where I am today. So, no, I would not change anything! I am a strong believer that everything happens for a reason. God's will, will always prevail. 
What does YLNG mean to you and how have you contributed as a member of the Steering Committee?
YLNG gives me the opportunity to network and build professional and social relationships with other Latinos within the Yale community and outside of the community. It's a great support system for Latino staff members at all levels. I have contributed as a member by volunteering at events hosted/sponsored by YLNG as well as recently serving as co-chair of an upcoming event. I am proud to be able to celebrate and share my Latino heritage with others.