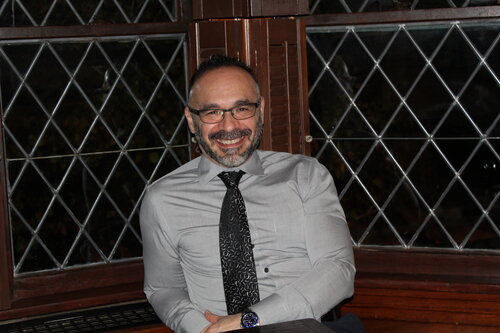 Tell me about your current role at Yale University?
I work as an institutional research analyst in the Office of Institutional Research, which is part of strategic planning/strategic analysis in the Office of the Provost.
What are your main responsibilities?
My main responsibilities revolve around data analytics, survey research, statistical analysis, and using other data analysis tools to help University leaders and stakeholders make evidence-based decisions.
One example of university reporting involves providing information on student outcomes for alumni who graduated from Yale 6-8 years ago. This type of information is then submitted annually to state and federal agencies.
In terms of survey research, one example is our COFHE Alumni Survey.  COFHE stands for Consortium on Financing Higher Education, a voluntary, institutionally-supported organization of over 30 selective public and private universities that work together to learn more about student experiences at their member universities. The Alumni Survey is distributed every 4-5 years to Yale alumni who graduated as early as the 1970's to alumni from more recent classes. I focus on Alumni outcomes, overall life experiences since graduation, career trajectories, show how undergraduate majors connect to current careers; as well as how they feel about Yale and their level of current connection to the university.  COFHE data also enables Yale to compare our outcomes and alumni attitudes with other peer institutions within the COFHE consortium.
For the rankings work, I analyze data and also work with other Yale departments to collect and provide information that is used by University ranking companies like US News and World Reports- for their well-known "Best Colleges" rankings, as well as the Wall Street Journal /Times Higher Education College Rankings, and the more recent Forbes Magazine's List of America's Best Colleges, to name a few.
What do you like most about your work?
That would definitely be the people I work with! I am fortunate to work with a wonderful group of very talented colleagues. Our OIR team is very talented in terms of their research and methodological skills, but is also a team that fosters an office environment focused on equity, diversity, and inclusion.
How does your job affect your general lifestyle?
I'm in a relatively privileged position in the sense that the responsibility of young children and aging parents is behind me. What this means for me personally is that I do not have many of the work-life balance demands that many others do. (Gabe has three grown daughters and one who lives with him here in New Haven). I am fortunate to have a very positive work/life balance. Having grown children, I am lucky that I can primarily focus on my work and things that interest me outside of work without the challenges (and also rewards) that are often a part of raising a young family or caring for aging parents.
If there is a way that work affects my personal life it's that if I'm working on a new topic, I may go home and do some reading on that topic.  I still like to learn so I often find myself learning a lot on my own and from my colleagues. It's not that I take work home with me, but I will read more on my own time when it comes to certain topics that interest me.
How did you begin your career?
I was a bit of a late bloomer actually. I didn't go to college straight out of high school, and as a first-gen student from an immigrant family, college was not something I planned on. I was around 25 or 26 when I went to college to start my undergraduate degree. After getting married and having my first daughter, I then started to work on my undergraduate degree while working full-time in the airline industry. I realized I enjoyed my studies and learning, and I then attended graduate school, by this point with three daughters!  I received my PhD in 2005 at Yale in Sociology, where I learned to use data as a way to try and make sense of social issues. Interestingly, out of the need to make a little more money for my family while going to Grad School, around 2003. I started working in institutional research as a research assistant in the same department where I currently work. This path of learning and being excited about sociology lead me to the University of Texas/San Antonio as a professor for 14 years. When my current position opened up it was a good opportunity to move back to New Haven, back to Yale when I decided to make the move from higher Ed teaching/research and more into learning how Universities actually "work".
What steps would you recommend one take to prepare to enter this field?  What skills, abilities, and personal attributes are essential to success in your job/this field?
First: Curiosity is helpful. Whether working in an academic setting or say companies like Facebook or Google; this type of research starts with people who are curious and like to solve problems using data. Second: Work on and develop those research skills which involve a bit of statistics, understanding data, current programing packages like R, Python, SAS and others, getting comfortable with coding – using the tools that are there to do statistical analysis. Third: Develop communication skills. Learning to communicate the results of statistical analysis with diverse groups of people and other stakeholders is an important part of my job. Additionally, keeping issues of diversity and inclusion in the forefront of your mind is also important. People come to your findings and results with different opinions and from different backgrounds, and a strong researcher is aware of this and works to always create a safe and collegial environment for discussion.
If you could do it all over again, would you choose the same path for yourself? If not, what would you change?
Yes, I would choose the same path. I don't have too many regrets. Early in life I had dreams and ambitions to be a musician, which is why I put off college. Instead, I wanted to travel and play music, and during my late teens and early 20's, that is exactly what I did. That was a great time in my life and even though I put off college and my degree had to wait I wouldn't change much. College is best suited for people at certain times in their life.  When I left high school, I was not ready for college. I did much better attending college later in life. Of course, we're all different so the things that work well for one person may not be the best for another.
What does YLNG mean to you and how have you contributed as a member of the Steering Committee?
I think it's rewarding and very positive that Yale has these affinity groups that allow groups of people to come together and think about broader social issues. Unfortunately, two months after I moved to New Haven, Covid happened. Most of the time I've been here I've been quarantined, so I really didn't get to know people from YLNG really well, or as well as I would have liked to. I'm hoping that as things open-up I can get to know more of the members of YLNG.
I think about the Latino Network much the same way I think about other affinity groups at Yale. I really do believe that they're an important component of what the University does and allows people from diverse backgrounds and voices that may not be heard, to be heard. I think for organizations like Yale, that's really important. Unfortunately, I haven't helped with YLNG as much as I'd like to. So far, my main contribution to YLNG have revolved around conversations that involve looking at and interpreting data that's available on campus that I've presented along with other members of the group. I've helped to put some of the data together to try to get some conversations going around the topic of diversity, staff, and retention. At this point, I think that is the biggest contribution I have made. It's important for organizations like Yale, that are embedded in these very diverse communities like New Haven to reach out, to think about issues of inclusion, and establish policies that are mindful of issues related to diversity and inclusion. I am hoping to get even more engaged in the planning of YLNG events in the future.