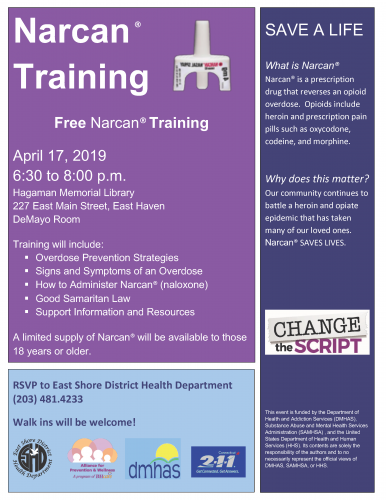 Come to a free Narcan training at the East Haven Hagaman Memorial Library. Narcan (naloxone) is an opiate antidote. Opioids include heroin and prescription pain pills such as oxycodone, codeine and morphine. Narcan is a prescription medicine that blocks the effects of opioids and reverses and overdose.
Why does this matter? Our community continues to battle a heroin and opiate epidemic that has taken many of our loved ones. Narcan saves lives! Trained individuals are allowed to possess and administer Narcan to a person having an overdose.
This training workshop will include: overdose prevention strategies, signs and symptoms of an overdose, how to administer Narcan® (naloxone), good samaritan law, and support Information and resources. A limited supply of Narcan® will be available to those 18 years or older.
For more info, please click here.