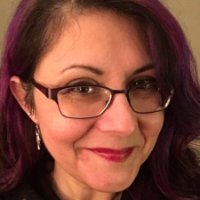 Tell me about your current role at Yale University?
I am the new Instructional Designer, in the Yale Office of Environmental Health & Safety.  I started in June 2016. I work closely with EHS subject matter experts and the campus EHS Safety Advisors to keep Yale EHS online training content up-to-date and increase training engagement.  
What are your main responsibilities?
I am responsible for updating and editing existing EHS online course content and creating new eLearning modules and training documents related to campus environmental health and safety topics.
What do you like most about your work?
There is so much variety in the range of EHS training topics I get to work on here.  And I get the opportunity to work with subject matter experts from areas and departments all across campus. 
Besides the opportunity to work at Yale, I feel so fortunate to be a part of the team here in the Office of Environmental Health & Safety.  They are such a caring and responsive group, and not just in their duties across campus, keeping the Yale community safe, but also as coworkers… there is a real sense of family within our department. 
How does your job affect your general lifestyle?
I commute from daily up from Norwalk and am the mother of a "special needs" Asperger teen, and I'm a primary care taker of my elderly mother-in law who lives with us.  My department is very sensitive to family and work-life balance considerations, so the ability to work from home if needed or flex hours on occasion has been a blessing in family emergency situations. 
How did you begin your career?
My career path has not been linear. In the mid-80's, I worked as a community health educator and then as a family services & job placement caseworker for "at risk" youth back in my hometown of Rochester, NY.  After almost a decade of advocating for youth and their families, and struggling with the bureaucracy of the social service system, a devastating tragedy occurred to one of my clients that made me reevaluate if I could continue to withstand the emotional wear and tear a person in this field had to deal with.  At that moment in time, I chose to go back to school and completed a degree in Professional & Technical Communication at Rochester Institute of Technology. Upon graduation, I moved to the Tristate area and worked on Wall street as a technology and software trainer.  After 15+ years of being a technology trainer, I damaged my vocal cords and found myself once again at a career crossroad.   But because of my background in communications and training, I was able to make the switch to instructional design and online training development.       
What steps would you recommend one take to prepare to enter this field?
A degree or course of study related to teaching technology and/or communications would be a good first step.  My time at RIT gave me the opportunity to learn communication theories and principals and explore emerging technologies/platforms and software.   A person interested in a career as an eLearning instructional designer should have a good understanding of/or education in, adult learning theories, learner engagement, pedagogies for eLearning, instructional design modalities, and emerging mobile technologies.  I would recommend not limiting yourself to one computer or mobile platform.  Learn and be able to work on, design and test for Macs or PCs, iPhones or Android… and others (as they are invented!).
What skills, abilities, and personal attributes are essential to success in your job/this field?
Curiosity about everything! And the ability to take complex or technical information from a subject matter expert and translate it into content that can be understood by learners across varied levels.  Being able to quickly learn a skill or method for the purpose of modeling and creating step by step training.   Being able to collaborate with various personality types and people outside of your areas of expertise. 
If you could do it all over again, would you choose the same path for yourself? If not, what would you change?
I would love to still be a face-to-face trainer, and I would still love to be working with youth, so heartbreak and vocal cord injury aside, I might still be doing those things if I could. But I am very happy where I wound up and truly enjoy what I am doing here at Yale. 
How long have you worked with YLNG?
As soon as I hit the ground here at Yale in June of 2016, I began to research the affinity groups that were available for staff to join.  I have a very strong desire to be part of a social community and it was also important to me to find out about and become involved in diversity and inclusion events on campus. I felt most aligned with the culture and mission of the Native American Cultural Center but found there was no related staff affinity group.  Of the existing staff affinity groups I was interested in exploring, the YLNG provides a wonderful opportunity to network and bond with Latinx staff and be a part of a group that volunteers and supports the Yale and New Haven communities.