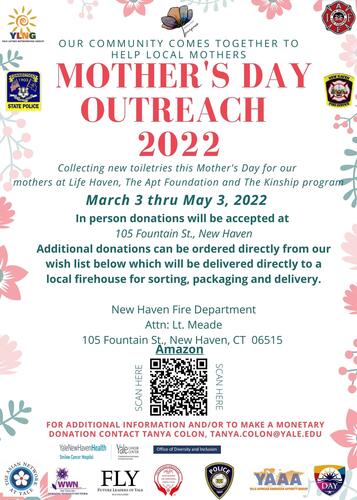 Yale's Affinity Groups, New Haven Fire Department, Yale Police Department, CT Police, Yale New Haven Health Smilow Cancer Hospital, Yale Cancer Center, and The New Haven Club of The National Association of Negro Business and Professional Women's Club's Inc.  are partnering to collect toiletries and cosmetics for mothers at Life Haven, The Apt Foundation, and The Kinship Program. Items are being collected from Thursday, March 3rd through Tuesday, May 3rd.
In person donations will be accepted at the New Haven Fire Department, Attn: Lt. Meade, 105 Fountain St., New Haven, CT 06515. Additional donations can be ordered directly from our Amazon wish list, which will be delivered directly to a local firehouse for sorting, packaging, and delivery.
For additional information, and/or to make a monetary donation, please contact Tanya Colon at: tanya.colon@yale.edu.